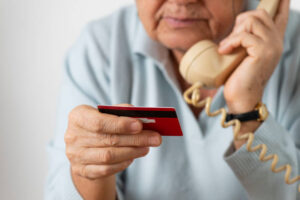 Scammers are increasingly targeting older adults. They use scams to steal money or get personal information they can use to open accounts and access other benefits. These scams are widespread and change all the time to take advantage of new technology, current events, and more. Protect yourself by knowing the common types of scams that target older Ohioans and what you should do if a scammer targets you.
Scams That Target Older Adults
Common Tactics
Scammers may pretend to be someone you trust by appearing to call or text from a legitimate phone number or sending official-looking emails.
Scammers may may act in ways that you wouldn't expect from the person they claim to be or the company they claim to represent, such as yelling or threatening you.
Scammers may ask or demand that you make immediate payment by unusual means, such as gift cards, prepaid debit cards, internet currency, money transfer, or by sending cash in the mail.
Scammers may claim you've one a prize, but you must pay a fee or provide personal information to claim it. Remember, you generally can't win a lottery or sweepstakes you didn't enter.
Scammers may pretend to be from a well-known technology company and tell you that there are problems with your device that you were unaware of, then offer to fix it.
Scammers may try to pressure you into acting right away with only the information they tell you, and may get angry or ignore you if you request more information and time to decide.
Scammers may ask for personal information, such as your social security number, birth date, or banking information.
Scammers may pose as new friends on social media and online games. While it may seem like harmless small talk, questions such as where you live, what you do for a living, and if you're married may give strangers information they can use to scam you.